Learn how to simply and easily implement ASP.NET file upload on a web resource with unlimited size, number, and format.
No longer do you have to worry that your important files will be lost for any reason during the upload. Check below to see it in action!
Aurigma Upload Suite can upload absolutely any type of data
Nothing will stand in your way no matter what you want to upload - new pictures or videos, important documents, or other files of any format: jpeg, doc, mkv, txt, etc. Using ASP.NET file upload tools by Aurigma you only need to select the file and click "upload".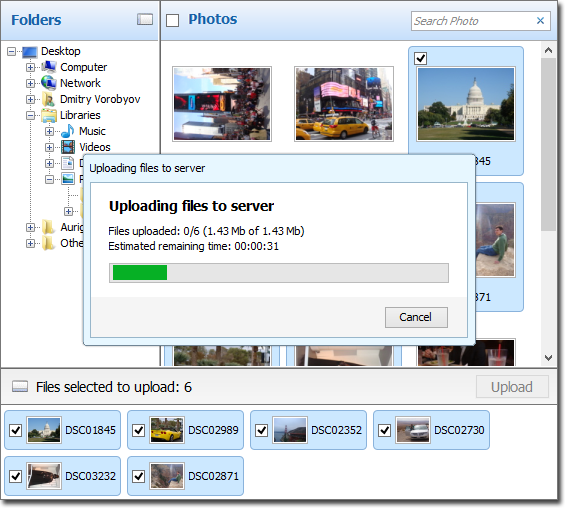 ASP.NET file upload without restrictions on the size and number of files
Hundreds of pictures, movies or folders with files can be highlighted and sent to upload easily. Multi-gigabyte files can upload without the need for compression or breaking them into component parts, and there is no limitation on the number of files to be uploaded.
Automatic restoration of interrupted uploads in ASP.NET file uploader
If for some reason the internet connection to the server is lost, the browser has stopped responding, or there was a failure in the system as a whole, there is no need to worry that selected and / or partially uploaded files will be lost. Upload Suite is able to automatically restore the connection and check uploaded files or completed parts thereof for continuity.