Debugging ActiveX/Java Upload Scripts in Other Platforms
This topic describes different approaches to solving the issue when ActiveX/Java Uploader is unable to successfully upload files and displays the following error message: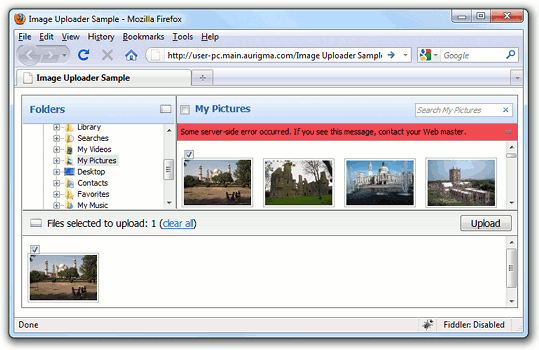 As well, sometimes you may see the message saying that upload is successful, but files appear to be not uploaded; this may indicate a server error but not necessarily.
In this case, please, firstly check that you specified at least one converter, your upload script really saves files, and you are looking for files in the correct folder.
Here are the most probable issues causing the server-side error:
ActiveX/Java Uploader cannot save uploaded files because of wrong permissions configuration. See the Installation and Deployment Notes topic to learn how to set required permissions.
The request size is too big. See your web server documentation to get to know how to increase maximum request length.
There is an error in your upload script (specified with the uploadSettings.actionUrl property). See the debug approaches described below to find the error.
Here we consider the following approaches to handling and debugging server-side errors:
Event handling approach implies showing the server response when some error occurs. If displaying errors is enabled, this response contains error details. However, this approach requires some modifications of ActiveX/Java Uploader settings.
Using sniffer allows you to view server response without necessity to modify embedding code, but it uses a third-party tool.
Using debug console allows you to view errors, debug messages from ActiveX/Java Uploader, and information messages.