JavaScript



<script type="text/javascript" src="iuembed.js">  </script>




<script type="text/javascript">




var iu = new ImageUploaderWriter("ImageUploaderID", 610, 500);




//...other params...


iu.addParam("AllowMultipleSelection", "true");


//...other params...




iu.writeHtml();




</script>



Property Value
A boolean value (true or false). If true, the user can select multiple files at one time (in TwoPanes layout checkboxes are displayed on the items). Otherwise, the user can select only a single file (in the TwoPanes layout radio buttons are displayed). It is demonstrated in the figure below:
AllowMultipleSelection = true
AllowMultipleSelection = false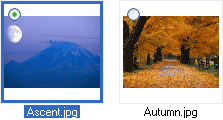 Default value is "true".