This product was discontinued
What Is the Private-label Version?
When you order a Premium license for our Upload Suite, you are eligible to request a private-label version of any of Aurigma uploader. This article offers detailed information about the private label set-up.
The private-label version is a special build of any uploader included with Aurigma Upload Suite, in which all mentions of "Aurigma" are replaced by the name of your company. The highlighted screenshots below illustrate where your company name would appear.
ActiveX
Before the ActiveX control is loaded, Internet Explorer displays a control title and a company name in the yellow bar on the top of the page.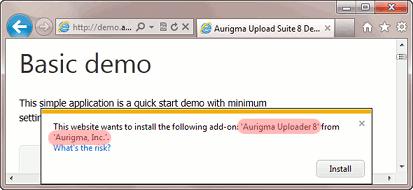 When the user clicks this bar and confirms that they want to run this control, Internet Explorer displays a security dialog asking whether the user trusts the publisher and really wants to install the control.
After the control is installed, a user can find it in the list of Internet Explorer add-ons.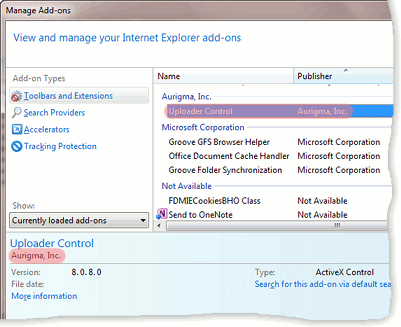 Java
When the Java applet is installed, the browser displays a security dialog asking the user to confirm that they trust the publisher. This dialog looks different in various browsers. On Mozilla Firefox it looks like this:
The user can see the company and applet name if they run the Java console while Image Uploader is running.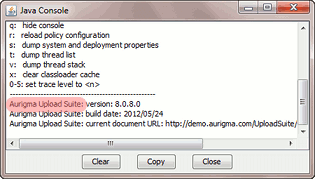 Flash
For Flash control, a user can see the company and control name in the right-click menu (About... section).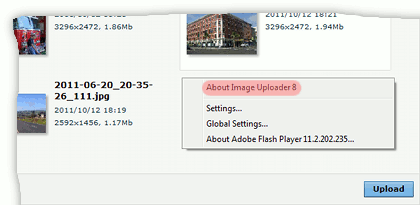 Private-label prerequisites
A private-label version of any uploader Aurigma offers is included in the price of a Premium license. Just purchase at least one Premium license and let us know that you need a private-label version. We will then provide you with all further instructions on how to set it up. 
If you want a private-label version for any uploader except of Flash, you also need to obtain a digital code signing Microsoft Authenticode certificate from VeriSign, Thawte, or other authorized online security companies.
Note: It may take a few days to prepare a private-label version. If you need it urgently, please let us know as soon as possible after the license is purchased.
Do I have to send my certificates to Aurigma?
At the time of purchase you will get the unsigned binaries. You will have to sign them with your digital certificate, but don't worry, we'll provide you with instructions on how to do it.
If you want a private label version, but do not want to bother with signing the product with the certificate, we can provide you with a ready-to-use product, although as this is an additional service an extra fee may apply. Just let us know when you contact our sales team. In this case, you must send your certificate and a password to us. We at Aurigma fully understand this data is sensitive and guaranty its confidentiality.
Don't change Aurigma certificate yourself!

Changing Aurigma certificate by yours without purchasing a private-label version is directly prohibited by the license agreement, and it would be deemed a trademark infringement.