Aurigma Image Uploader on iPhone
Today I would like to tell you about our new project which we hope will become pretty revolutionary product. We working on a prototype and I think we will be able to present it in the nearest future.
Briefly speaking, we are trying to bring our upload technologies to iPhone/iPad platform. If we succeed we are definitely going to do the same for other major mobile platforms.
As you apparently know, Apple does not provide any means to upload anything from iPhone/iPad unless there is a special application that can send files to your site. Their browser does not support even standard HTML upload functionality, not to mention Flash or Silverlight. So if you want your users to upload photos taken on their iPhones, you have to write your own app, deal with Apple to get it to AppStore, etc. Too much headache!
What we are going to introduce is the universal upload app which will be able to transfer files to any website. It will be launched and configured through the Safari (no user interaction required!). As soon as the upload completes, the user gets back to the browser.
To make the whole idea more clear, I have prepare few screenshots.
Step 1. Open the upload page
The users go to your website and opens the upload page. Here they will see the Upload button. When the you click it, Aurigma iPhone Uploader app is automatically launched.
Note, it is assumed that this app is already installed. So we should warn the user that if it is not available yet, they should install it (you will be able to provide a direct link to AppStore).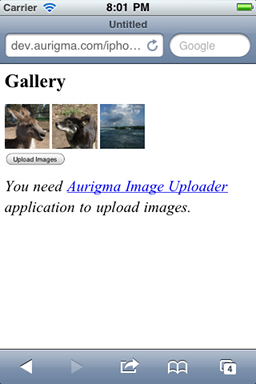 Step 2. Select photos to upload
When the application is launched, the users will be able to select photos on his iPhone and add them to the upload list.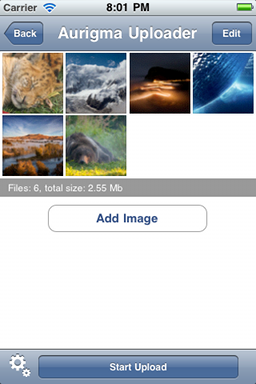 Step 3. Upload process
When they are all set, they will click Start Upload, and the upload process starts. As its elder PC sibling, Aurigma iPhone Uploader will display the progress bar, etc.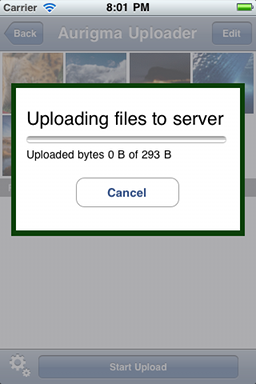 Step 4. Get back to the website
When the upload completes, Safari is launched again, and the user is redirected to the gallery page to review the uploaded files (or it may be the same page as the start page if necessary).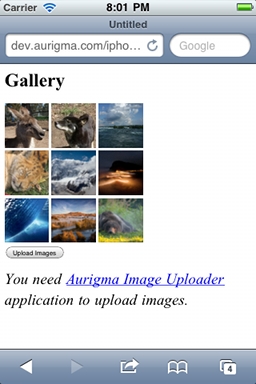 It seems pretty elegant solution to me. Hope you will agree with me on this. :)
Any thoughts/remarks/comments on this? Do not hesitate to share your ideas with us at info@aurigma.com, and we will help you to reach your iPhone/iPad users and let them to upload their files without having to copy files to their desktop computers first.